VENEZ DÉCOUVRIR
Que Faire ?
un livre d'artiste de Liv Schulman
conçu en collaboration avec Roxanne Maillet.
LECTURES, PROJECTION, SIGNATURE
Dimanche 1er juillet 2018 de 13h à 15h
à la librairie La Salle des Machines à Marseille
dans le cadre du programme public Les Émotions Trafiquées — Lust for Dust organisée par Lotte Arndt dans le prolongement de l'exposition VOS DÉSIRS SONT LES NÔTRES présentée par Triangle France – Astérides à la Friche Belle de Mai.+ infos
Le livre Que Faire ? est co-produit par le centre d'art La Galerie de Noisy-le-Sec et le centre d'art Parc Saint Léger de Pougues-les-eaux.
___
BOOK LAUNCH
Que Faire ?
an artist's book by Liv Schulman
created in collaboration with Roxanne Maillet.
READINGS, SCREENING, BOOK SIGNING
Sunday 1st July 2018 from 1 to 3 pm
at the bookshop La Salle des Machines, Marseille
as part of the public programme Les Émotions Trafiquées — Lust for Dust curated by Lotte Arndt within the frame of the exhibition VOS DÉSIRS SONT LES NÔTRES presented by Triangle France – Astérides in La Friche Belle de Mai.+ infos
This book is co-produced by the art centre La Galerie (Noisy-le-Sec) and the art centre Parc Saint Léger (Pougues-les-eaux).
---
Achetez le livre en ligne dès maintenant !
Order online your copy now !
---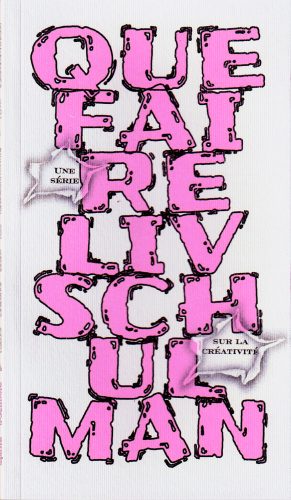 —
80 pages – 2 couleurs impression Riso
136 x 182 mm – 250 ex.
Auteurs et contributeurs : Liv Schulman, en collaboration avec Alain Farrès, Dominique Martin, Thomas Brehamet-Godet, Gaëtan Alepee, Nathanaëlle Puaud, Emilie Renard, Zoe Charles, Alban Legass, Régine Besenval, Nadège Souillard et Marjolaine Calipel.
Texte en français.
Conception graphique : Roxanne Maillet
ISBN : 979-10-90298-10-1 – 2018

—
Dans Que Faire ? un groupe de scénaristes cherche désespérément des idées, ou n'importe quel moyen de sauver leur travail grâce aux émotions et au langage privé. Enfermés dans la Writer's Room, à moins qu'il ne s'agisse d'un atelier vide dans les locaux de leur ancien employeur, leur activité s'apparente aussi bien à une séance de brainstorming qu'à une thérapie de groupe ou à une forme innovante de chômage collectif. Écho lointain au célèbre traité politique de Lénine, ce nouveau Que Faire ? s'attèle frontalement à la question du travail dès lors qu'elle se voit associée à l'impératif contemporain de créativité. Le titre retentit avec la force d'un cri de détresse : Que faire (comment créer) quand les corps sont dévalués, réduits à un état de frustration et d'anxiété radicales ? Le texte sonde l'incapacité de savoir quoi faire quand la vie intérieure, principale source du travail productif, est gagnée par la dépression nerveuse ; ce faisant, il explore aussi la nature plastique du langage et le pouvoir transformateur de la parole.
Que Faire ? est à l'origine une mini – série télévisée écrite et réalisée par Liv Schulman en collaboration avec une équipe d'acteurs amateurs. La version papier de cette série est le fruit d'une collaboration avec la graphiste Roxanne Maillet.
—
In Que Faire ? a group of scriptwriters are desperately looking for ideas, or any way to save their work through emotions and private language. Locked in the Writer's Room, unless it is an empty workshop on the premises of their former employer, their activity is as much a brainstorming session as a group therapy or an innovative form of collective unemployment. A distant echo of Lenin's famous political treatise, this new Que Faire? tackles the question of work when it is associated with the contemporary imperative of creativity. The title resounds like a cry of distress: What to do (how to create) when bodies are devalued, reduced to a state of radical frustration and anxiety? The text probes the inability to know what to do when the inner life, the main source of productive work, is overwhelmed by nervous breakdown; in the process, it also explores the plastic nature of language and the transformative power of speech.
Que Faire ? is originally a TV mini-series written and directed by Liv Schulman in collaboration with a team ofnon-professional actors. For the book version of the series Liv Schulman worked in collaboration with the graphic designer Roxanne Maillet.